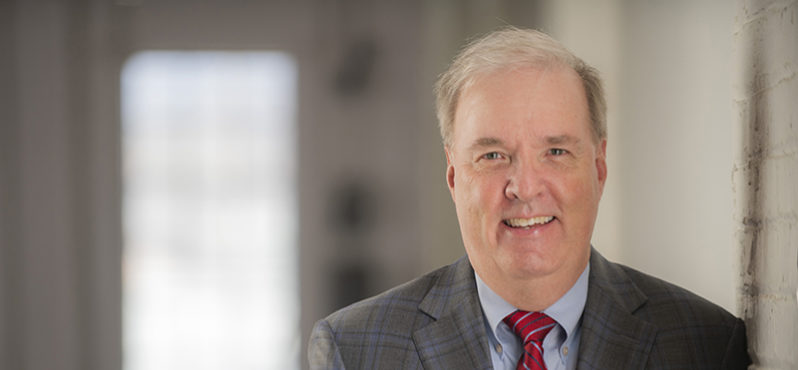 Dennis Dykhuizen is the head of the firm's Health Care Practice group. He focuses his practice in the areas of health care, business and commercial transactions. He has experience in assisting clients with tax matters, business succession planning, acquisitions, joint ventures, estate planning, financing and contract negotiations. He has represented a wide range of physician groups and health care providers, including hospitals, ambulatory surgery centers, assisted living and long-term care facilities, independent diagnostic testing facilities, and numerous health care joint ventures.
Dennis' practice includes, but is not limited to, physician relationships, physician recruitment agreements, employment contracts, medical staff bylaw matters, and a wide array of health care regulatory matters involving Stark, anti-kickback, tax and related issues. He is also a frequent speaker on corporate and health care topics, including topics related to health care reform.
Dennis has a great deal of experience in representing nonprofit organizations as well, both within and outside of the health care arena. Further, he has assisted clients in obtaining various forms of financing for their businesses, including tax-exempt financing when appropriate.
A native of Fort Wayne, Dennis received a Bachelor of Science with distinction in Accounting from the Indiana University Kelley School of Business (1977). He received his Juris Doctorate degree from Indiana University School of Law in Bloomington (1980). Prior to joining Rothberg in 1983, he performed tax consulting for the international accounting firm of Arthur Andersen & Company.
Legal Assistant: Debra Schmitz
Indiana, 1980
U.S District Court Northern District of Indiana, 1980
U.S. District Court Southern District of Indiana, 1980
U.S. Tax Court, 1986
American Health Lawyers Association
Allen County Bar Association
Indiana Bar Association
National Association of Bond Lawyers
AV Preeminent® Rating from Martindale-Hubbell®
Selected for Inclusion in Best Lawyers®, Health Care Law, 2016-2022
Selected for Inclusion in Best Lawyers®, Corporate Law, 2016-2022
Selected for Inclusion in Best Lawyers®, Land Use and Zoning Law, 2016-2022
Selected for Inclusion in Indiana Super Lawyers, 2021
Assists hospitals and physician groups with joint ventures, including imaging and ambulatory surgical center facilities and equipment.
Structures stock and asset purchases.
Assists with Medicare, Medicaid, and state licensing filings.
Represents hospitals in connection with enforcement of lien rights to patient personal injury settlements.
Provides counsel related to the acquisition and structuring of a real estate joint ventures.
Advises small business owners in connection with internal shareholder disputes and separations.
Represents both sellers and purchasers in connection with asset purchases including those involving private equity firms.
Represents hospitals in connection with acquisition of large and small physician groups, including asset acquisition and employment and leasing arrangements.
Represents various auto parts suppliers on day-to-day issues.
Represents metals industry businesses.
Assists clients in restructuring of short and long-term financings.
Coordinates restructuring of multiple health care provider joint ventures following regulatory changes.
Serves as counsel for construction industry clients.
Advises clients regarding fiduciary obligations among owners and management.
Assists with creation and negotiation of contracts for multiple health care providers.
Represents privately-held companies in negotiation, documentation, and sale of products.
Serves as attorney for cellular telecommunication tower company, providing representation in financing, acquiring and constructing tower sites in multiple states, like-kind, tax-exempt exchanges, leasing transactions to the major wireless carriers, as well as the selling of tower sites.
Parkview Health System: Chairman, Institutional Review Board
St. Anne Home Retirement Community: Chairman, Board of Directors
Business People Magazine: "Choice of an Entity - Time for a Checkup?," published June 2021
Legal Alert: "Indiana Changes Recording Requirements (Again)," published February 19, 2021
Legal Alert: "LGBTQ+ Community Now Protected Under EEOC," published June 18, 2020
Legal Alert: "Physician Employers Need to Revise Employment Agreements under New Statute," published June 3, 2020
Legal Alert: "The Paycheck Protection Program: Forgivable Loans Can Be the Lifeline Your Business Needs," published March 30, 2020
Legal Alert: "Changes to Affect Traditional and Roth IRA Beneficiaries as of January 1, 2020," published January 9, 2020
Legal Alert: "Should Your S Corp (or Pass Through) Now Convert to a C Corp?" published March 12, 2018
Legal Alert: "Health Care Providers Need to Pursue Medicare's 'Primary Payers,' NJ Court Rules," published October 27, 2017
Legal Alert: "Indiana Company Wins ObamaCare Challenge," published November 10, 2013
Legal Alert: "Peer Review Immunity Loss," published July 2013
Tankersley v. Parkview Hospital, 791 N.E.2d 201 (Ind. 2003)
Stephens v. Parkview Hospital, 745 N.E.2d 262 (Ind.App. 2001)
National Insurance Association v. Parkview Memorial Hospital, 590 N.E.2d 1141 (Ind.App. 1992)
Wayne Township v. Parkview Hospital, 580 N.E.2d 958 (Ind. 1991)
Webinar: "Tax Reform: What does it Mean for You?" presented February 2018
Webinar: Hosted by AcceLINX Musculoskeletal Health Business Accelerator, "Legal Considerations for Startups," presented June 2017
Indiana Health and Hospital Association, 2004 Annual Meeting: "Physician Performance Based Compensation Arrangements"