Rothberg was founded in 1952.
As attorneys joined the firm, the name changed many times. But the foundation - to be a prosperous practice - remains.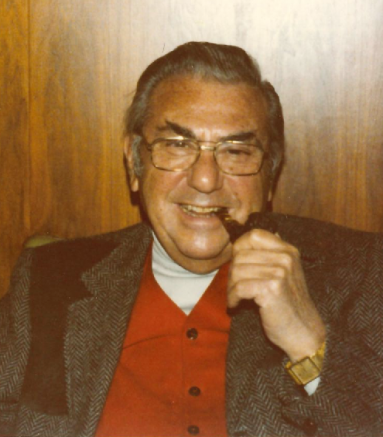 Decades of Talented Attorneys
Submitted on July 23, 2015
by Thomas D. Logan,
Retired Partner/Distinguished Firm Alumni, 1956
When Sol Rothberg graduated from Indiana University Law School at Bloomington, Indiana, he opened a law office in a pretty bleak, post-depression period. Of course, that didn't bother Sol. He loved challenges and took on the challenge of the depression like everything else.

By 1953 Sol had built a prosperous law practice, practicing with some of the leading trial lawyers in the area, including Clarence R. McNabb, former County Chairman and Circuit Court Judge. Sol saw his career challenge as moving from an individual practitioner to creating a larger law firm prominent in the community and among the lawyers. Two young lawyers, both already involved in the practice, presented Sol with this opportunity. Both Thomas A. Gallmeyer, Sr. ("Tom") and Richard T. Doermer ("Dick") were sons-in-law to Clarence McNabb, both had been honorably discharged as Officers in the Army and Navy, respectively, both had graduated from Cornell Law School and both were very promising young lawyers.
Sol promised to contribute to the new firm his long standing law practice – in consideration for which Tom and Dick joined the firm that now is known as Rothberg Logan & Warsco. Sol had great faith in both Tom and Dick, and it wasn't long before his great faith was rewarded. Tom went to work in Republican politics and in a very short period of time became the Republican County Chairman, District Chairman, State Chairman and Representative to the National Convention for the Republican Party in Indiana. Dick, on the other hand, established himself in the commercial area of the practice. He became involved with several banks, some of which he participated in organizing, and served as a financial advisor to many companies and clients who adopted Dick as their general counsel.
Needless to say, all three of the lawyers, Sol, Dick and Tom, were in very short order, very busy lawyers with more legal practice than all three of them could handle.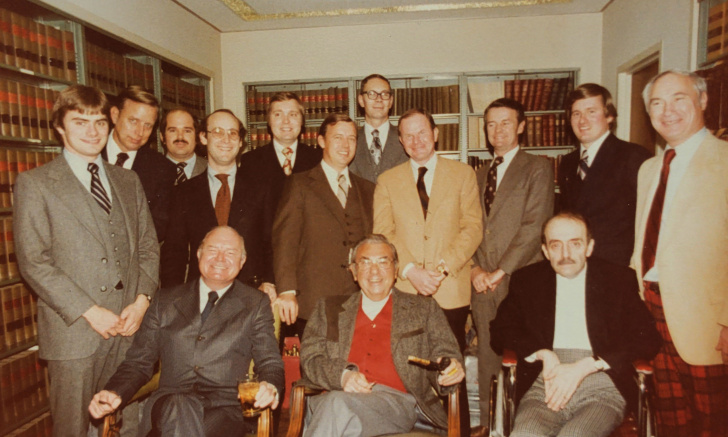 They then turned their talents to attracting other young lawyers to the Firm – in which endeavor, they had tremendous success. Young lawyers coming to Fort Wayne in those years were anxious to become involved with these three outstanding lawyers and community leaders, and they all worked together to bring a prosperous practice together. The cornerstones of the Firm's long-term success and professional reputation were set.

Not only did the founders establish a prosperous practice (now over 50 years old), but each succeeded in making many permanent changes which had affects throughout the whole community. For example, the IPFW Business School is now known as the "Doermer Business and Professional Science School." Tom organized the American Federal Savings & Loan Association. Tom and Dick were both heavily involved in a succession of successes within the Republican Party, and as the final tribute to Dick's effort in the community, the Health Science Building at St. Francis College in Fort Wayne is now known as the "Doermer Family Health School Building."
And so the Firm has prospered and has attracted now almost two generations of talented, young lawyers. The Firm continues to grow and to move strategically forward – with the original principles, goals and philosophies of the founders and its many distinguished alumni remaining at its core.
The History of Rothberg
Since its inception, our firm has been a prosperous practice in Fort Wayne, Indiana, and beyond. We continue to attract talented attorneys, and excel in our practice areas.
1952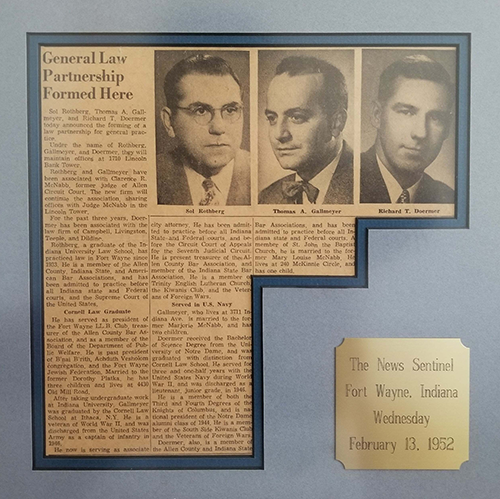 A general law partnership is formed in downtown Fort Wayne, Indiana, by attorneys Sol Rothberg, Thomas A. Gallmeyer, and Richard T. Doermer. The office is located in the Indiana Bank Building.
1959
The firm becomes Rothberg, Gallmeyer, Doermer & Strutz.
1960
The firm becomes Rothberg, Gallmeyer & Strutz.
1961
The firm becomes Rothberg, Gallmeyer, Strutz, Fruechtenicht & Logan.
1967
The firm becomes Rothberg, Gallmeyer, Fruechtenicht & Logan.
1994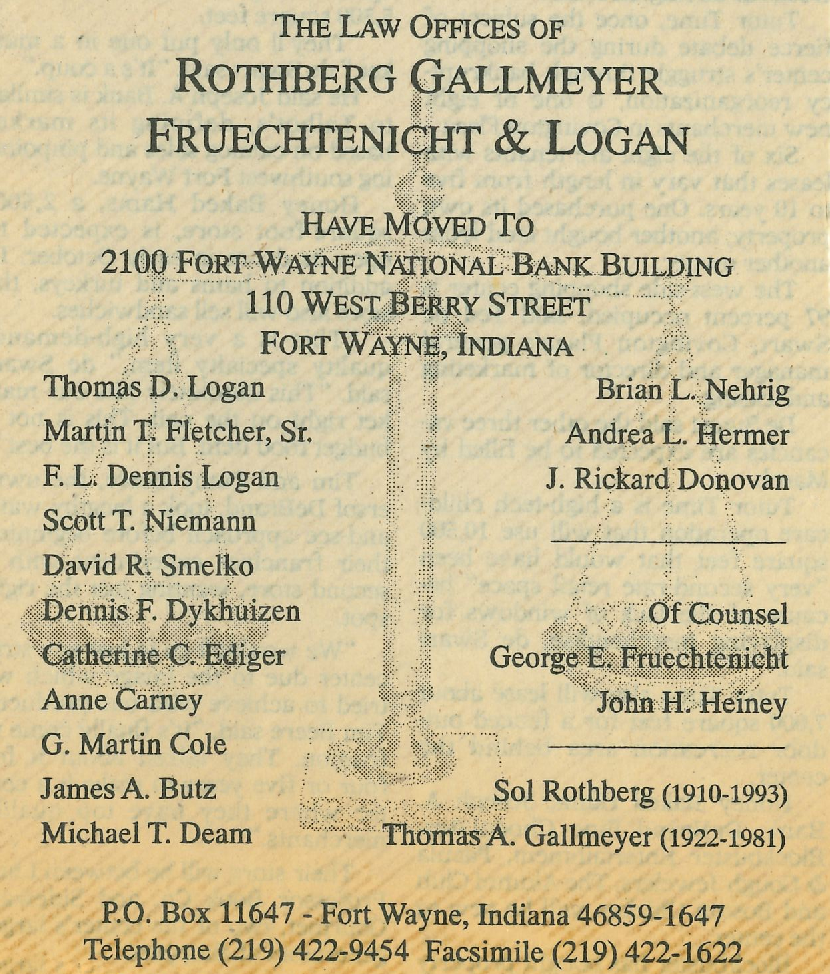 The firm moves from the Indiana Bank Building to the Fort Wayne National Bank Building.
1996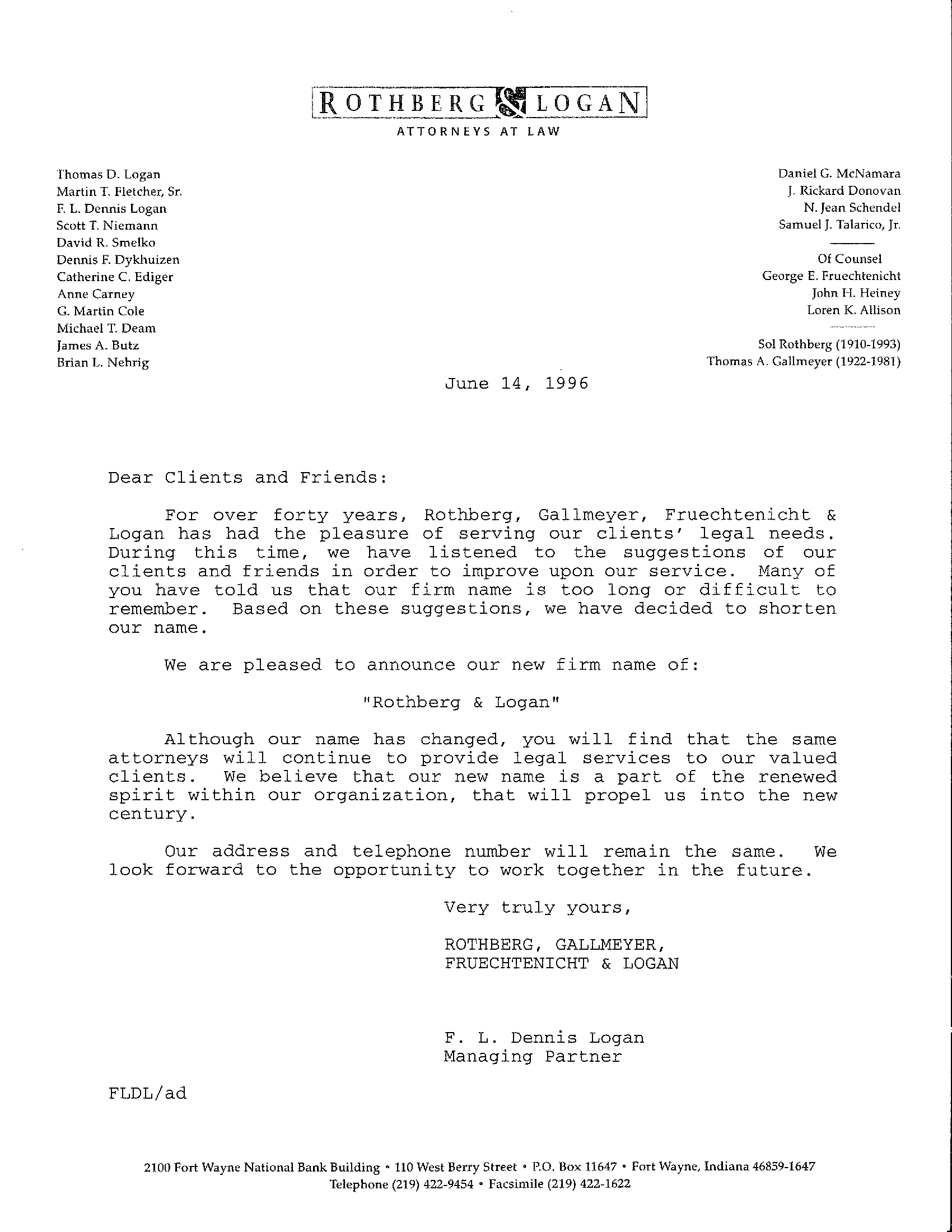 The firm becomes Rothberg & Logan.
2000
Rothberg Logan & Warsco LLP is officially established on July 1, 2000, with the merger of Rothberg & Logan and Warsco Brogan law firms.
2009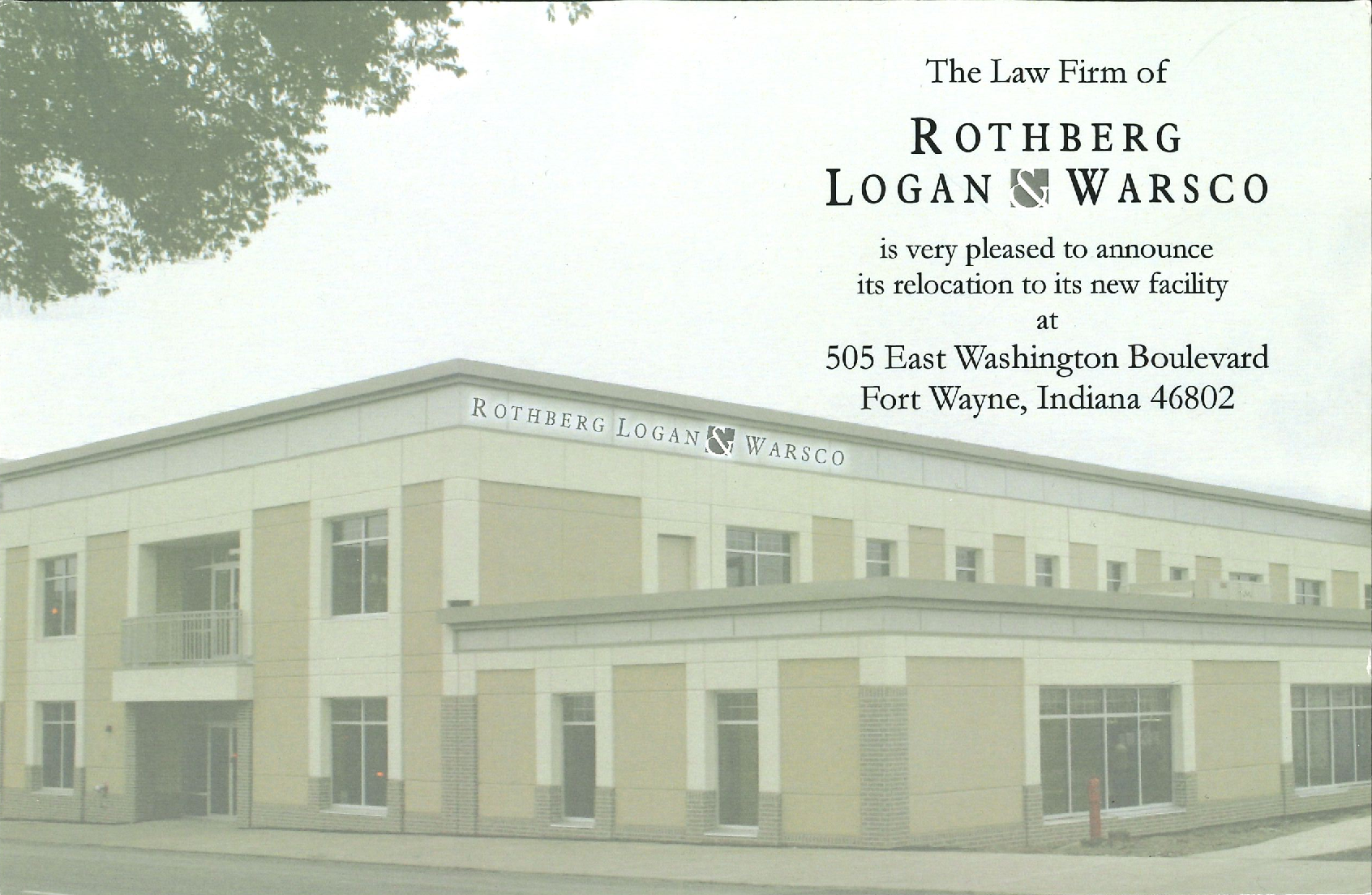 The firm renovates an existing building at 505 E. Washington Blvd. in downtown Fort Wayne, Indiana. The move is official on November 30, 2009. This is the firm's home today.
2021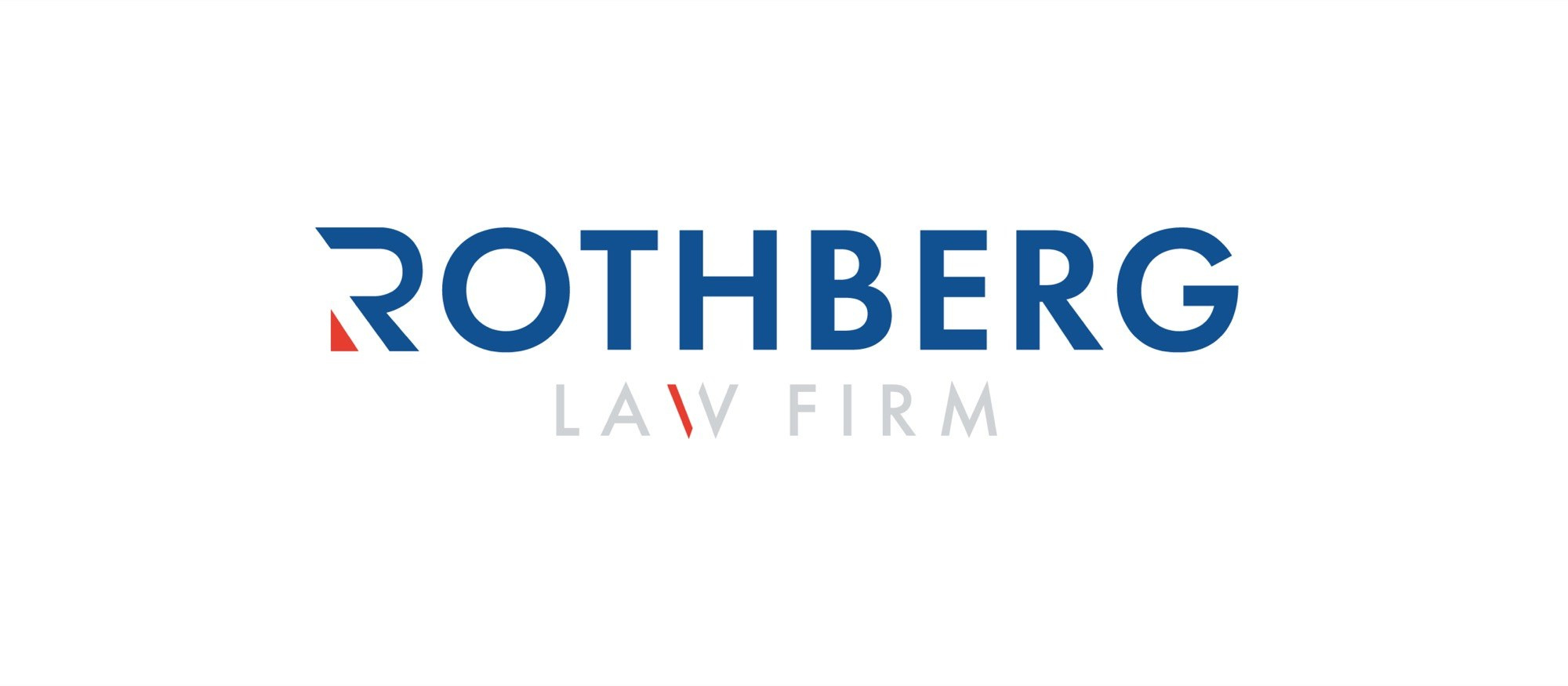 The firm becomes Rothberg Law Firm on February 16, 2021.