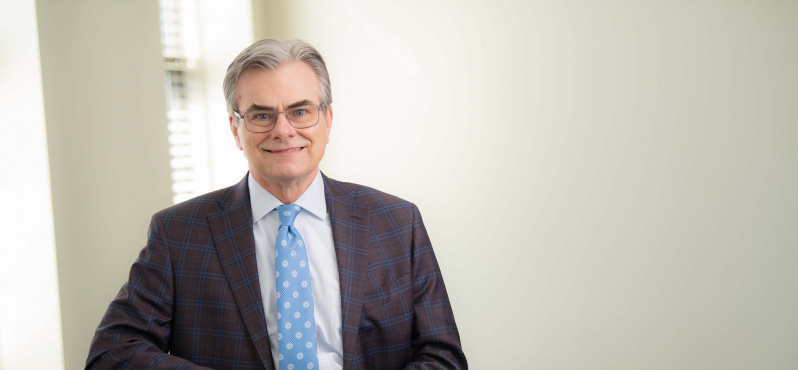 In 2018, Denny Logan led the Firm's effort to open an office in Grand Rapids, Michigan. He is currently the lawyer in residence in the Firm's Grand Rapids office, while also practicing from our Fort Wayne office on a regular basis. The Firm's work in Michigan primarily involves representing businesses. The Firm intends to serve a select group of business and bank clients in the west Michigan area. The Firm's goal in doing so is to fully understand each client's business and work closely with the client in achieving its goals.
Denny has extensive experience in business law and regularly advises businesses and municipalities on acquisitions, formations, governance, contracts, commercial real estate and other business matters. He has also assisted lenders in structuring and documenting complex commercial lending transactions.
Denny is also the supervising attorney in charge of the firm's estate planning and probate areas.
Denny served the firm as Managing Partner for sixteen years from 1994 through 2010.
An Honors graduate of DePauw University, Denny attended Valparaiso University Law School. He is a recent member of the Economic Club of Grand Rapids and has been a member of a wide range of organizations, including Leadership Fort Wayne and the Downtown Fort Wayne Rotary Club. He has also participated in a variety of community, school and church activities.
Legal Assistant: Lisa Palmer
Michigan, 2016
Indiana, 1977
U.S. District Court Northern District Indiana, 1977
U.S. District Court Southern District Indiana, 1977
Indiana State Bar Association: Legal Ethics Committee Member
Allen County Bar Association: Board of Directors; Chair, Legal Ethics Committee
American Bar Association: Business Law Section
American Agricultural Law Association
Indiana Bar Foundation: Fellow
Economic Club of Grand Rapids
Planned Giving Council of Northeast Indiana
Fort Wayne Estate Planning Council
Selected for Inclusion in Indiana Super Lawyers®, 2004–2006, 2008, 2016–2021
Selected for Inclusion in Best Lawyers®, Banking and Finance Law, 2006–2022
Selected for Inclusion in Best Lawyers®, Municipal Law, 2006–2022
Selected for Inclusion in Best Lawyers® "Lawyer of the Year," Banking and Finance Law, and Municipal Law, 2018 and 2022
AV Preeminent® Rating from Martindale-Hubbell® for over 20 consecutive years
Serves as outside General Counsel to a multi-state service business in the aviation industry as part of Rothberg's West Michigan initiative.
Regularly serves as counsel to companies, serving all of their day-to-day legal needs.
Served as co-counsel with law firm partner on an $80 million loan to a group of manufacturers for one of several participant banks and multiple amendments thereto.
Regularly serves as counsel in commercial real estate and financing transactions, including those requiring local legal opinions.
Responsible for counselling a municipal corporation on public bidding, collective bargaining, grievances, open door law, legislative, finance, real estate disposition, and General Counsel related matters.
Responsible for counselling a municipal corporation on an advertising policy which complies with the First Amendment.
Responsible for drafting wills and trusts for people of all means and circumstances, including many second and subsequent marriages.
Responsible for overseeing, organizing, and planning for ultimate disposition of a significant multi-state farm operation.
Responsible for overseeing the termination of a longstanding family trust resulting in clear control of a multi-generation family business.
Responsible for creating, representing, and obtaining IRS approval for several tax-exempt, 501(c) organizations.
Denny has taught classes and seminars for Purdue University, the Indiana Continuing Legal Education Forum (ICLEF), and the Allen County Bar Association.
Northeast Indiana Sustainable Business Council: Rothberg is one of the founders, and Denny has served as a Board member and secretary throughout its existence.
East Wayne Street Center: two terms as President for this central city organization devoted to assisting in the development of an underserved community, with a focus on early childhood and adult education.
St. Paul Lutheran School: board member
Concordia Educational Foundation: board member
Emmanuel Lutheran Church: involved in church leadership for over 15 consecutive years, including two terms as Congregational President.
Speaking engagements have involved secured lending issues, guaranties and agricultural lending, as well as wills, trusts, powers of attorney, and health care directives.