Legal Alert: President Biden's Vaccine Mandate
Posted: 09/13/2021
|
Employment, Business, COVID-19, Health Care, Government
On Thursday, September 9, 2021, President Joe Biden announced a sweeping new federal vaccine mandate that could apply to as many as 100 million Americans. Implemented by Executive Order and through the Center for Medicare & Medicaid Services ("CMS") and the Occupational Safety and Health Administration ("OSHA"), these new requirements place additional responsibilities upon many employers. Those who fail to abide by the new vaccination mandate face significant fines on top of exposing themselves to costly litigation.
Who is effected by this new mandate?
Employers with 100+ employees – OSHA is developing a rule that will be issued through an Emergency Temporary Standard requiring all employers with 100 or more employees to either have a fully vaccinated workforce or require that any unvaccinated employees produce a negative COVID-19 test result on a weekly basis. Moreover, employers will also be required to provide their employees with paid time off for their vaccination appointments to allow them time to recover from any potential side effects.
Federal Employees – Executive Order 13991, passed on January 20, 2021, established the Safer Federal Workforce Task Force and required federal employees to continue wearing face masks if they were not vaccinated. Now, this more recent Executive Order requires federal employees to be vaccinated. Federal employees will not have the option to produce weekly negative COVID-19 tests as an alternative. The Task Force will issue guidance regarding how this will be implemented and enforced within the next week.
Contractors who do Business with the Federal Government – A separate Executive Order requires that companies who contract with the federal government must likewise ensure that their employees are following the same guidelines that the Task Force will produce. Given that Federal employees must be vaccinated and that contractors will now be expected to follow the same standard, the effect of this order is that any individual working on or in connection with a federal contract must be vaccinated. The Task Force will also provide additional definitions, exceptions, and explanations of protocol related to contractors and subcontractors by September 24, 2021. The Executive Order only applies to new contracts and extensions or renewals of existing contracts.
Health Care Providers who Participate in Medicare and Medicaid Services – CMS is requiring workers in most health care settings that receive Medicare or Medicaid reimbursement to get vaccinated. President Biden's comprehensive "Path Out of the Pandemic Plan" which accompanied the mandate's announcement explicitly lists hospitals, dialysis facilities, ambulatory surgical settings, and home health agencies as sites where workers will need to get vaccinated. This requirement extends beyond employees involved in direct patient, resident, or client care and covers all staff. CMS is currently developing an Interim Final Rule that will be issued in October after a comment period.
Note that these new requirements are still subject to existing law – meaning legitimate religious and health care exemptions remain applicable.
As alluded to above, the consequences for not following these new mandates can be severe. Employers with more than 100 employees who fail to enforce vaccinations, procure negative weekly tests, and/or do not offer paid time off for vaccinations may be fined up to $14,000 per violation by OSHA for being a noncomplying business. The financial repercussions of not complying for health care settings may be even more dire since they would likely lose access to Medicare and Medicaid reimbursement.
If you have any questions, please contact your Rothberg attorney.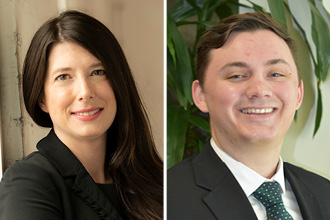 Rachel J. Guin, Partner|[email protected]
Pat Tilden, Intern|[email protected]
Even though the content of the above Rothberg Law Firm Legal Alert is primarily informative, state and federal law obligates us to inform you that this is an advertisement. You have received this advisory because you are a client or friend of the firm. Services may/will be performed by others.

The Legal Alert is for general information purposes only, and is not intended as legal, tax or accounting advice or as recommendations to engage in any specific transaction and does not purport to be comprehensive. Under no circumstances should any information contained in this Legal Alert be used or considered as an offer or commitment, or a solicitation of an offer or commitment, to participate in any particular transaction or strategy. Any reliance upon any such information is solely and exclusively at your own risk. Please consult your own counsel, accountant or other advisor regarding your specific situation. Rothberg Law Firm will not be responsible for any consequences of reliance upon any opinion or statement contained here, or any omission.