Update: Vaccine Mandates and COVID-19 in The Workplace
Posted: 01/18/2022
|
Employment, Business, COVID-19, Health Care, Government
On January 13, 2022, the Supreme Court of the United States ("SCOTUS") stayed the Occupational Safety and Health Administration's ("OSHA") Emergency Temporary Standard ("ETS") that would have required employers with 100+ employees to either mandate COVID-19 vaccines in the workplace or conduct weekly testing for unvaccinated employees.
On that same day, the SCOTUS upheld the vaccine mandate for healthcare providers. The mandate for federal contractors is still tied-up in litigation, but we will hopefully know that answer soon.
Regardless, don't throw away your policies and employee vaccine data just yet. OSHA may attempt to narrow the scope of the ETS or implement a completely new policy altogether.
Also, the original requirements of maintaining COVID-19 policies in the workplace and implementing safety measures consistent with (the ever-changing) CDC guidance are still in place.
On January 14, 2022, the U.S. Department of Labor reported that OSHA fined an Ohio auto-parts supplier over $26,000.00 for failing to enforce federal guidelines on social distancing and mask wearing in August 2021 wherein 5 employees were hospitalized and 2 died from COVID-19.
The decision stated: "OSHA continues to enforce all standards applying to the coronavirus and holds employers accountable for failing to meet their obligations to minimize worker exposure to the coronavirus."
In an effort to push back on vaccine mandates, the Indiana Senate will vote tomorrow in an attempt to prevent Indiana's businesses, schools and universities from independently mandating the vaccine. The proposed bill would allow employers to require weekly testing for employees who are not vaccinated. Rothberg will continue to provide updates as new information becomes available.
If you have any questions, please contact your Rothberg attorney at 260-422-9454.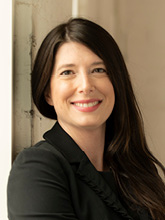 Rachel J. Guin, Partner|[email protected]
Even though the content of the above Rothberg Law Firm Legal Alert is primarily informative, state and federal law obligates us to inform you that this is an advertisement. You have received this advisory because you are a client or friend of the firm. Services may/will be performed by others.
The Legal Alert is for general information purposes only, and is not intended as legal, tax or accounting advice or as recommendations to engage in any specific transaction and does not purport to be comprehensive. Under no circumstances should any information contained in this Legal Alert be used or considered as an offer or commitment, or a solicitation of an offer or commitment, to participate in any particular transaction or strategy. Any reliance upon any such information is solely and exclusively at your own risk. Please consult your own counsel, accountant or other advisor regarding your specific situation. Rothberg Law Firm will not be responsible for any consequences of reliance upon any opinion or statement contained here, or any omission.