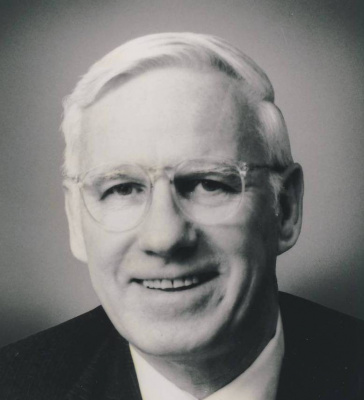 Richard T. Doermer
Founder & Retired Partner
In Memoriam
Born in Fort Wayne, Richard T. ("Dick") Doermer was a graduate of South Side High School, the University of Notre Dame, and Cornell University Law School. Dick enlisted in the U.S. Navy in 1942 and served in the Pacific Theater, where he was commissioned an Ensign and honorably discharged as a Lieutenant four years later. He subsequently became a partner with the firm.
Dick began his long and illustrious career in banking in 1956 when he joined Dime Trust and Savings Bank as Director and Executive Vice President. He became president in 1957 and changed the name to Indiana Bank and Trust Company. Through acquisitions, mergers, and affiliations, it grew to become Summit Bank, NBD Bank, and eventually JPMorgan Chase. Doermer remained Chairman and CEO of NBD Fort Wayne until he retired in December 1993.
During his career, Dick also served on the Boards of Directors of nine other Indiana banks. Dick was also Vice Chairman of Avis Industrial Corporation of Upland, Indiana. In partnership with Leland Boren, Chairman of Avis, it grew to a holding company owning 12 diverse manufacturing facilities across the United States and Canada. Over the years, Dick served on the boards of numerous businesses including the Rea Magnet Wire Co., Journal Gazette Publishing Company, Our Sunday Visitor, Kelly Box and Packaging Corporation, the Greater Fort Wayne Chamber of Commerce Foundation, and the Vera Bradley Foundation for Breast Cancer Research. Dick was also a member of the Fort Wayne Quest Club for over 50 years.
Dick's professional life was further defined by his many philanthropic efforts in association with the Catholic Diocese of Fort Wayne, the United Way of Allen County, Fort Wayne Community Schools, the University of Notre Dame, Fort Wayne Chamber of Commerce, the Fort Wayne Parks Foundation, and St. Joseph Hospital.
He was a member of the Advisory Council to the Mendoza School of Business at the University of Notre Dame. He also served as a member of the Finance Council and Investment Committee for the Fort Wayne-South Bend Catholic Diocese. He was a director of the United Way and also served as General Chairman of its annual fund campaign. He served on the Board of Trustees for the University of St. Francis. He spent 29 years on the Board of Directors of the Public Employees' Retirement Fund (PERF), initially appointed by Governor Otis Bowen and reappointed by four succeeding governors.
Governor Joe Kernan presented Dick with the Sagamore of the Wabash for his service to the Indiana Public Employees' Retirement Fund. The award - the highest civilian honor the governor can bestow - is a personal tribute usually given to those who have rendered distinguished service to the state and governor. In 1990, Dick was named an Honorary Lieutenant Governor of Indiana.
In 2006, Indiana University-Purdue University Fort Wayne (IPFW) honored Dick by naming the business school the Richard T. Doermer School of Business and Management Sciences. In addition, the Health Science Building at The University St. Francis in Fort Wayne is named the Doermer Family Center for Health Science Education.
During Dick's lifetime, it was not unusual for a new firm associate, having just passed the bar or having reached some other professional goal, to receive a thoughtful, handwritten note of congratulations from Dick. Throughout his life, Dick Doermer remained a friend of the firm and a gentleman to all who knew him.