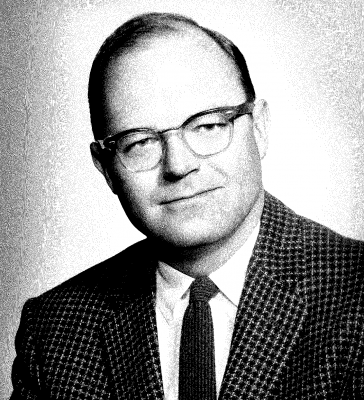 George E. Fruechtenicht
Retired Partner
In Memoriam
George Fruechtenicht was born in Fort Wayne on July 7, 1925. He attended North Side High School, graduating in June 1943. He entered active service in the U.S. Army on October 22, 1943. George served as a staff sergeant in the Battle of the Bulge in the European Theater of operations during World War II. His participation in that battle left a lifelong impact on him, as it did on the others who served with him. To be a staff sergeant on the front lines with the Company L/393rd infantry was a tremendous responsibility for a 19 year old.
After returning from Europe and receiving his honorable discharge from the U.S. Army in February 1946, George enrolled at DePauw University, graduating in 1949. He subsequently attended Northwestern University School of Law. After receiving his law degree in 1952, George was admitted to the bar in both Illinois and Indiana.
George quickly developed a reputation as a skilled trial lawyer and was recruited to the firm in 1955. George bears the distinction of being one of the firm's very first associate recruits. George continued as a partner of the firm until his retirement from active practice in September 1986, after which he continued to be associated with the Firm in an 'of counsel' capacity.
Among his many professional activities and associations, George was active in the Allen County Bar Association, serving as its president in 1970. He served on the board of directors of the Indiana Trial Lawyers Association, and as chairman of the Trial Lawyers section of the Indiana State Bar Association. George's hard work and reputation as an outstanding trial lawyer earned his selection as a fellow in the American College of Trial Lawyers in March 1975, at a time when there were only a handful of Allen County attorneys who had received this distinction. George was also a nationally ranked gin player.
George was an excellent lawyer in every field he was required by his clients to practice, but he was particularly adept in litigation. He was always prepared and rigidly followed the trial and disciplinary rules. He was extremely articulate and persuasive in presenting his cases. He had an uncanny ability to evaluate his case, that of his adversaries, and the likely result of trial. Because of these attributes, George was able to not only secure effective results for his clients in trials, but also to dispose of many cases through fair settlements.
His considerable abilities were well recognized by fellow lawyers and judges alike. It was not unusual for another member of the bar, even those who were not members of the firm, to seek George's advice with respect to a case they were about to file or try. George would freely and frankly counsel them. He was truly a lawyer's lawyer.
When a judge in an adjoining county, before whom George had frequently appeared, requested George to represent him in connection with an appeal to the United States Supreme Court, George readily accepted even though he had done little appellate work himself. George did exemplary work in preparation of briefs and in making arguments before the Supreme Court. The case - Stump v. Sparkman, 435 U.S. 349 (1978) - was not only resolved in favor of George's client (Harold Stump, former Judge of the DeKalb Circuit Court, who is now deceased), but the decision is considered to be a landmark pronouncement upon the scope of jurisdiction of judges and judges' immunity from damage liability throughout the United States.
George will be remembered not only for his remarkable ability to approach a case as a serious, hard-working advocate for his client, but also for maintaining an attitude of good humor and collegiality that made him a pleasure to work with. He was always generous in sharing these qualities as a mentor for younger lawyers in the firm.